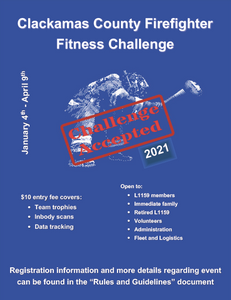 2021 Firefighter Fitness Challenge
Registration secures your spot in the 2021 Firefighter Fitness Challenge. Put together a team or fly solo and compete against your fellow brothers and sisters in Clackamas County to see who can become the fittest firefighters in the new year. Teams are encouraged and the event is open to immediate family, retired members, support staff, volunteers and administration.
$10 registration fee covers trophies for the top teams, Inbody scans, data tracking, and discounts at MaxMuscle and MyFitFoods. Inbody scans will be provided at Max Muscle Clackamas and MyFitFoods in Lake Oswego. MyFitFoods bought a new scanner this year so hopefully we won't have any breakdowns. The recommendation is 1 scan every 4-5 weeks to track progress during the challenge.
How to sign up:
Register for the event here

Open registration from January 4th to January 29th

Have receipt available when you go to get your Inbody scan for proof of participation 
Email a picture of your Inbody scan to Paul Corwin at paulcorwin22@gmail.com 

Please include your name and your team's name (if applicable) in the email
Additional information about the challenge can be found in the attached rules and guidelines document.
Thank you for your interest in participation,
Paul Corwin
For more information please contact:

Lake Oswego Firefighter Paul Corwin

paulcorwin22@gmail.com
541-961-0121
Step 1: You're here - pay the $10 registration and go solo or create a team
Step 2: Take your receipt email from registration purchase to one of the In Body Scan locations. 
Step 3: Take a picture of your scan and send it to Paul, do this by January 29th
Step 4: Get to work, lose weight and gain muscle
Step 5: Get your In Body Scan done again by April 9th and send to Paul Corwin at paulcorwin22@gmail.com